Rewound Radio
It`s not how old it is... It`s how GOOD it is!

Playing...
Steppenwolf - Magic Carpet Ride

Smart Phone/TV...

Click or Tap: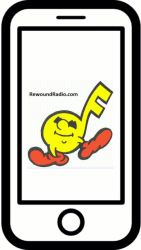 Pop Up Player:

HERE


Alternate Pop Up Player:
HERE
Most Stand Alone Players: HERE
Other
s!
Windows Media Player: Here
Slow Internet Connection: Here
Tune in App Rewound Radio: Here
Additional links click here
Click here for the Direct Rewound Radio Studio Request Line!

Previous Songs
Elvis Presley - Don't Cry Daddy
Buddy Holly - That'll Be The Day
Simon & Garfunkel - Mrs. Robinson

Recent Rewound Radio Specials!
Allan Sniffen interviews Dave Laird about his years at a great Top 40 DJ!


Allan hosts a tribute to Don Imus as a DJ and talk show host:


Allan interviews Bobby Jay about his amazing career:


Allan Debuts Some New Rewound Radio Jingles:


Rewound Radio
More Than Just The Best Music!
(all times U.S. Eastern)

The History of Rock and Roll with Gary Theroux
Weekdays at 10AM, 3PM and 9PM

The Sixties and Seventies Show LIVE with Bob Radil
Friday nights at 6PM
The Rewound Radio DJ Hall of Fame produced by John Troll
Saturdays at 12 Noon
Rewound Radio LIVE with Allan Sniffen
Saturday afternoons at 3PM

It's not how old it is... It's how GOOD it is!
And... it keeps getting better!
Facebook:
Rewound Radio
Rewound Radio Sponsored Historical Radio Station Web Sites:
WABC Musicradio 77
WMCA Good Guys
WOR-FM
New York Radio Message Board


Oldies Message Board
Rewound Radio...
Dedicated to preserving the sound of classic Top 40 Radio!
Rewound Radio is a nonprofit association under Section 501(c) (3) of the IRS Code.
Music royalty payments are made as such to: