The Larry Lujack Tribute!

Continuous Play!
(courtesy of Rewound Radio)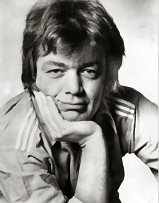 Original Broadcast
Rewound Radio
November 25, 2023
Starting with Larry from very early in his career from stations in Washington State then several shows from the WCFL and WLS era and then
his return to radio during a reprise on WUBT, "The Beat 103.5" and with Tommy Edwards on WRLL, "Real Oldies 1690", from the early 2000s.
As fans know, Larry's well known features included "Klunk Letter of the Day", "The Cheap Trashy Showbiz Report", "Can This Marriage Be Saved?",
and his best known daily feature "Animal Stories", whom he hosted with Lil' Snot Nosed Tommy.
Larry was at the forefront of the one of the most memorable events in Chicago radio when WCFL transitioned from playing Rock and Roll to Beautiful Music in March of 1976.
He was the only DJ at the station to survive that format change and hosted the new relaxed format for six months, before returning to WLS later that year.
As we near the tenth anniversary of his passing, we will also hear from many of those that worked with Larry over the decades including
World Famous Tom Murphy, Chuck Buell, Kris Erik Stevens, Lyle Dean, Fred Winston, Jeffrey Hendrix, Catherine Johns, Doug James, Garry Meier, and of course, Tommy Edwards.
It's a special six hour Rewound Radio DJ Hall of Fame honoring Larry Lujack!
This special is produced by Ted Gorden Smucker, along with Bill Shannon.
Production Director is Steve Brelsford.
Additional Aircheck credits go to Tommy Edwards, Mark Easter, Chris Andrews, Don Beno, the late Richard Irwin and the late Tom Konard.